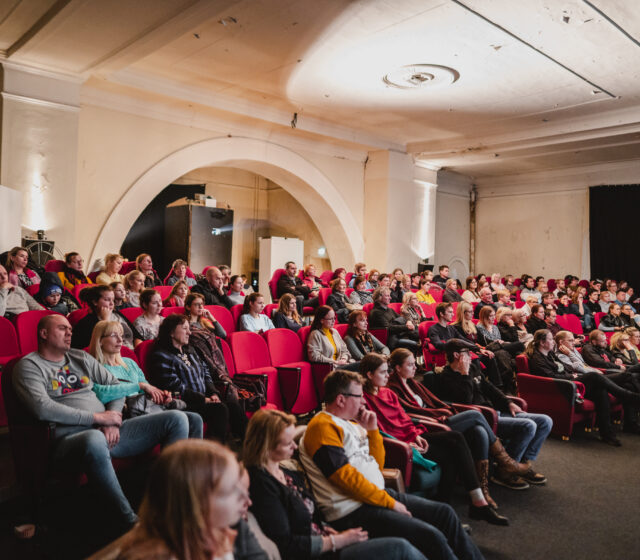 Elektriteater is an art-house cinema in Tartu, Estonia. Tartu is the second biggest city of Estonia with a population of 100,000 people and is also the birthplace of Estonian cinema. The first permanent cinema building in the country was opened here in 1908 on the river bank with a view of the town hall square, about half a kilometer from our current location. It was named Elektriteater Illusioon and we have inherited our name from those times. The first Estonian filmmaker Johannes Pääsuke also lived and worked in Tartu.
We are a single screen cinema with 120 seats located in an old church at Jakobi 1, just behind the main university building. You can find the cinema hall on the third floor. Since it's a historical building, we have no elevator, so be prepared to climb a few stairs. Once you get to the cinema hall, notice the charming wide screen in the scope format that spans almost from floor to ceiling, of which we are quite proud.
Our program consists mainly of Estonian and European feature films and documentaries but also animations, short films and movie classics. In addition to our main program, we regularly have special screenings and retrospectives. During the summer, we operate an outdoor cinema in different venues across town and across the country. We are also a proud member of the Europa Cinemas network.
Occasionally, we also distribute films to the Estonian market and we usually select just one film every few years. You could call us very much a boutique arthouse distributor in this sense. So far the titles have been "Kedi", "The Wolfpack", "Ida" and "The Keepers of the Loom".
Our standard ticket price is 6€. We do have free screenings now and then which are marked as TASUTA or REGISTREERU on the movie page.
Tickets are available online or at the cinema before screenings, by card or cash. The box office opens 30 minutes before the first screening and closes 15 minutes after the beginning of the last screening.
Before every screening there is a short introduction about the film by the projectionist. These introductions are usually done in Estonian. In general, they last a few minutes depending on how excited the specific projectionist is about the specific film. Other than that, the films start at the correct time noted in the schedule. We do not show advertisements before the film. We do however usually show trailers for upcoming movies before the noted screening time starts.
We have a small self-service café where you can purchase hot beverages (tea, coffee, mulled wine), please be aware as this is self-service we ask you have some coins with you.
You can see a gallery of our activities on our website. It's only in Estonian but hopefully, the pictures speak for themselves.
Covid-19 safety
Covid-19 infection is still causing trouble in Estonia as in most of the world. At any time we are always following the requirements set by Estonian state. These requirements my change at any time. Currently there are no restrictions set for people visiting the cinema.
Still we ask you to be considerate, stay home when you feel any illness and keep a respectable distance with other visitors.
Contact us
If you have any questions, recommendations or comments then don't hesitate to contact us.

Phone: +372 58 877 807
Follow us on social media:
facebook.com/elektriteater/
instagram.com/elektriteater/